Obey God and watch Him work.
I'd been serving at a church in Bartow, Florida, for only 11 months when the Lord began speaking to me about coming to Atlanta. That request seemed extremely illogical to me at the time.
I'd been taught that to be an effective pastor, you go somewhere and stay a good long while. Yet I knew God was telling me to leave.
For about four months I gave God lots of reasons why I couldn't do it: It wasn't reasonable. It wasn't the way I was trained. It wasn't what I wanted to do. My fellow pastors might think poorly of me. But He wasn't persuaded at all. He just kept pressing my heart to do what He said to do.
Eventually, I ran out of excuses and accepted His call to move to Atlanta. Now, I often think about what I would have missed if I hadn't taken that step of blind obedience.
God's requests are often steppingstones to the most fantastic blessings and incredible experiences of our lives.
We sometimes don't take the first step, however, thinking that what He's asking isn't really all that important. But to God, that first step is often a big leap toward life-changing blessings and growth for us.
One of the most interesting examples of this can be seen in the life of Peter, a fisherman by trade.
In Luke 5, we read about a morning when Peter was doing a routine task related to his work: cleaning the nets after a night of fishing. Jesus was standing nearby teaching, but as the crowd grew, the people pressed around Him at the edge of the lake. So Jesus got into Simon Peter's boat and asked the fisherman to take Him out on the water (Luke 5:1-3).
It was a simple request and Peter obeyed, stopping what he was doing and taking Jesus a little way out from shore (Luke 5:3).
But the result of Peter's obedience is what interests me most.
After Jesus finished preaching, He asked Peter to put out his nets. Peter had just been out there the night before and had come home empty-handed. But he did what Jesus said anyway.
Suddenly Peter had two boat-sinking loads of fish (Luke 5:5-7). He was so amazed that when he got to shore, he left everything and followed Jesus (Luke 5:11).
Peter's story has a lot to teach us about obedience, especially the importance of taking the first step.
Obeying God in small or seemingly irrelevant matters is an essential movement toward His greatest blessings (Matthew 25:14-29). Often those blessings come as a result of our willingness to do something that appears very insignificant and unimportant.
When God says to do something, responding by saying to yourself, "I'll pray about it" or "Well, I need to get some counsel" is not the answer. When God says, specifically, "Here's what I want you to do," the only right answer is Yes, Lord.
I'm not saying you should never pray about God's requests. Seeking godly counsel or biblical confirmation is a helpful and important step when we're not sure we've heard Him correctly. But oftentimes we already know exactly what He's saying.
When it's very clear to us, the right response is yes, yes, yes to whatever He requires (Luke 5:5).
Peter's story teaches us something else, too. God's blessings for obedience will often be unexpected, like Peter's amazing surplus of fish—and his transformed life. What's more, the rewards spilled over to those around him.
Think of the other fishermen who shared in the catch (Luke 5:7). They went home that day with a very unexpected gift from the Lord. They were not only provided for but, most likely, also greatly encouraged.
Even the crowd, who could probably hear Jesus better when Peter did as he was told, was blessed that day. The Lord continued to teach them from Peter's boat, and they continued to listen (Luke 5:3).
When you obey God, He'll make you a blessing to other people (Deuteronomy 7:9).
For example, a parent's obedience will improve the lives of the children. A pastor's obedience will help his congregation thrive. A godly neighbor brings blessings that the whole community enjoys. And when one person in a business is heeding the Father, the others also benefit.
If you and I are obedient to God in whatever He calls us to do, that blessing is going to extend to people around us.
Finally, obeying God allows Him to demonstrate His power in our lives.
Just think: That one simple act of obedience by Peter led to a miracle right there on the boat. He'd never seen so many fish in his life! What he witnessed made Peter's faith skyrocket—and was the beginning of the most exciting three years anybody could possibly live, walking with the Lord Jesus Christ every day.
It was Peter who later made one of the greatest statements of faith recorded in Scripture when he answered a question from Jesus by saying, "You are the Christ, the Son of the living God" (Matthew 16:16). And Jesus declared that Peter had been blessed by the Father in heaven with this essential knowledge (v. 17-18).
Do you want to be blessed, my friend? Obey God in the simple things in life, as well as the challenging ones.
You and I will be absolutely amazed at what God will do if we obey Him.
Even when it's unreasonable or uncomfortable, even when it's extremely inconvenient, even when we don't want to and we don't like it—obey Him anyway. It will always be worth it.
Prayerfully yours,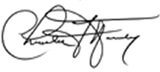 Charles F. Stanley
P.S. Obeying God sometimes results in dramatic changes in our lives. In Touch Ministries wants to help you navigate all that God is calling you to do, both now and in the future. We have a variety of resources to help you walk through each season of life in obedience. Just let us know how we can help.